Skydive Cross Keys, great new vibe, same old fun!
This June, TonySuits had the pleasure of perching the TonyBus at Skydive Cross Keys, a skydiving oasis in the middle of Jersey suburbia. It coincided with an event, TJ Langdren's XRW and wingsuit skills camp – which is always a great excuse to go to XKeys.
As usual, we had an incredible time with everyone, we are loving the results of new ownership.
Here's the deets:
In the Air
If you like aircraft that are fast af, then you'll love your pick between these two planes who get to altitude in about 8 minutes or less.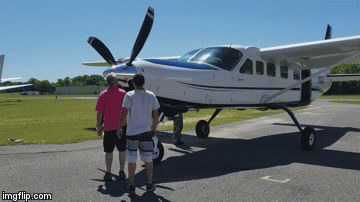 1 Super Caravan with a NEW carbon fiber prop ><
1 King Air
And for the swoopers,
…………………………
…………………………
On the Ground
I started coming to Cross Keys because of the swoop pond, but I keep coming back because of the people. – Cody Allison
The swoop pond
Consisting of a full 70 meter course, positioned to have either downwinds or headwinds, with competition gates for training.
Every Tuesday morning at 6 am, Swoop Club happens! Wheels up once the caffeine goes down, and anyone wanting to work on their swoop is invited. 5 hop'n'pops for only $90.
Trust your rears! #swoopclub #crosskeys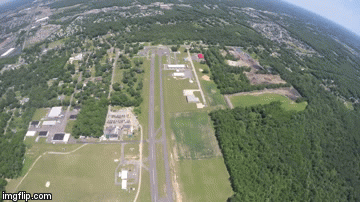 The Heckle Deck
For observers, this dropzone provides a shaded Heckle Deck, nestled up in the trees of the campground. Just follow the boardwalk beyond Ottley's bar with its sand floor, past the large swimming pool, and into the forest. Our favorite spot to gather for sunsets!
The skydiving operation
Held in the same hangar that has housed decades of skydiving fun, but you'll notice a new shine on the ol' place.
"The owners and team have done a really great job of bringing life back into the dropzone. They've put in a LOT of work and it's showing." – Mark Kruse
Mark Kruse (Cruise-ee) was around "back in the day" and has a wealth of experience with rigging, piloting, and specifically, Cross Keys, so we asked him about his history with this dropzone and what he thought of the new developments.
Things to know about Kruse:
32 years of skydiving experience
Based out of Chandler, Arizona
Travels extensively as a parachute operations contractor jump pilot and base jumping instructor
Favorite drink is orange whip (aka. Corona)
Favorite sayings: Fate prays on the ill-prepared. Shit happens to people who don't pay attention!
The Kruse Perspective
"To all dropzone staff everywhere, remember that what we do is meaningful, we change lives! You don't want to miss the opportunity to be a part of that."
Kruse started jumping in 1985 on round T-10 parachutes (sketch!) in his home-state of Wisconsin. His skydiving career brought him into rigging and gear sales in Wisconsin while spending 6 winters in Florida, mentoring under Joannie Murphy from Sunshine Factory, who Kruse says, "she was the best mentor on how to take care of people. She always said to give them more than they expect." In 1997, Kruse and his wife moved their gear store to Cross Keys, where he made more than half of his 18,000 jumps.
"It was the best move of my skydiving career."
At that time Skydive Cross Keys had grown into the largest student operation in the world, consistently doing more than 200 student jumps a day, on the weekends.
#1st thing you notice when visiting Skydive Cross Keys
The dropzone is centralized which provides interaction between students and experienced jumpers alike. Everyone here gets involved in whatever the task at hand, from dz improvements to party planning, from its legendary tiki bar parties, to the sunset swoop and chugs. You notice the camaraderie right away.
#1 reason that keeps you coming back
Most of my fondest skydiving memories took place at Skydive Cross Keys. I've been blessed with a life of happiness and adventure, all thanks to people like the former owner John Eddowes who had the vision to create such a wonderful place. I'm happy that the new owners, John 'Pico' Mazure and his wife Nadia, are proudly carrying on the tradition of fun and innovation in our great sport.
Hey Ladies!
Gotta give a shout-out to the ladies here, for continuing to contribute to the good vibes.
One sister-in-skydiving says,
"I drive hours away from my home dz to come here because I love the people! The jumpers at my former home dz, especially the other girls, tended to be on the cliquey side and often made me and other people feel excluded. Everyone at CK is incredibly welcoming and inclusive and the chicks here are all so cool and accepting. I felt at home here from day one and the people here have become my family." – Anonymous
Putting the XRW in Xkeys
Our visit happened to coincide with the XRW weekend with TJ! He lead the charge and organized a good amount of wingsuiters, making for some amazing shots. Check out the article and some footage here >> XRW @ XKeys
Overall
5 TonyStars!
See you next year, Cross Keys!