TJ Langdren, Bringing the Heat!
This June, TonySuits attended TJ Langdren's XRW and wingsuit skills camp held at Skydive Cross Keys in New Jersey.
As usual, TJ did an incredible job working with everyone, and the last footage of the boogie was badass! Carving, flocking, XRW – hella fun had by all.
XRW x2
Logan Donovan from Control Towers also came out to play. She flew her 66 Petra while wearing 31 lbs, finally giving these boys a chance to hold her hand. #badasschicks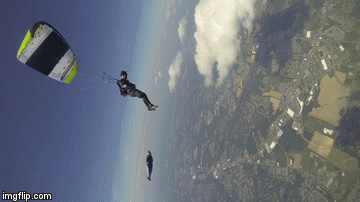 Farthest traveled to New Jersey
Alex Lemaire wins the award for the farthest to travel to this event, coming from Boston, Mass. He said his favorite jump was building an 8-way formation with hand docks!
The chance to do XRW here is something that shouldn't be missed. TJ is an awesome canopy pilot! It was a really great learning experience.
Overall, it was an great event at an equally great dropzone. You're gonna want to check out this dropzone > Skydive Cross Keys REVAMPED
Huge thanks to Skydive Cross Keys for hosting this event and keeping those planes flying!
Article by Flora Uragallo, TonySuits